​Hunting boots provide utmost protection, comfort, and traction for your feet for any terrain that you will have to go through on your hunting adventure. If you want a safe and comfortable hunting escapade, finding the best hunting boots is a vital first step. The materials and construction of the boots serve as a barrier between the harsh climate and harmful elements on the air and ground and your feet.
The goal is to find not just any pair of hunting boots—it is to land on the one that is reliable on several aspects and not just on one, be it on comfort or durability.
| Product name | Quality | Price | Our Rating |
| --- | --- | --- | --- |
| | A+ | $$ | |
| | A | $$$ | |
| | A+ | $$ | |
| | A | $$ | |
| | A | $ | |
Choose The Best Hunting Boots
What Makes a Good Pair of Hunting Boots?​
Those who enjoy taking hunting trips must choose the right gears, clothes, and accessories to wear such as hunting boots. Knowing what to look for in a pair of hunting boots will help prevent injuries that could cost you a pleasant hunting experience and even your life.
Here are a few things to consider when choosing your hunting boots:​
Matching the Boot to the Environment
Aside from these, you also have to consider the time of the year of your hunting trips. Here are some factors to consider:
What are the Big Fours of Hunting Boots?
When shopping for a pair of hunting boots, you should look at its fit, waterproofness, ventilation, and insulation—the big fours of this type of footwear.
Fit​
Fit is relative to size, which has been discussed earlier. To reiterate, it is important to wear the socks that you will be pairing with these boots on your hunting trips. If you wear any other socks, the fit will be different while you are shopping as when you are in the woods hunting.
​Insulation
Insulation affects the warmth you feel when you are wearing the boots. The insulation required of the boots will depend on your physical activity and weather. For high activity levels, less insulation is needed while greater insulation is required for sedentary activities. Also, for low temperature weather conditions, better insulation is needed.
Another factor affecting the insulation level necessitated is your body makeup. You have to be aware of your body tendency since you may need more insulation for the same activities that other people will require less insulation levels.
Commonly, these are the suitable insulation levels:
​
No insulation to 200 grams- for high activity levels and early season
400 to 800 grams- for fall season
1000 grams and above- cold weathers such as during winter season and sedentary activities
Waterproofing
Waterproofing is essential for any hunting boots, especially the activity starts early during the day when dew and moisture are abundant on the ground, especially in grassy areas. No one wants to have wet feet right at the beginning of their adventure and even on any other period at the entire duration of the activity. Thus, the hunting boots should have a membrane that prevents moisture from entering the interior of the footwear.
​Ventilation
Finally, to complete the big four, is ventilation. The hunting boots should be breathable so that air can circulate properly within the footwear. This will affect the level of comfort that you can achieve with the boots. Again, no one wants to have soaking feet, especially from sweat. Yet, this is not only for comfort's sake but also for hygiene. If your feet get soaked, it will lead to bad odor that can stick to your boots.
The Top 5 Best Hunting Boots​
| Product name | Quality | Price | Our Rating |
| --- | --- | --- | --- |
| | A+ | $$ | |
| | A | $$$ | |
| | A+ | $$ | |
| | A | $$ | |
| | A | $ | |
The Wolverine Brown boots is waterproof, breathable, and insulated. It features a 600-gram insulation membrane and a rubber outsole that is resistant to oil, abrasion, chemicals, slippage, and heat. Its midsole and insole are designed to provide utmost comfort with its polyurethane material and full cushion support.
For guaranteed protection, this pair of boots have been made with an ANSI 75 steel toe and electrical hazard protection. For any tough environment, this pair of hunting boots will provide both protection and comfort.
Pros
Lives up to the promise of comfort even when used for extended periods
Waterproof
Durable; lasts for years
Plenty of traction
Does not produce foot pain; no need to break them in
Good fit
Breathable
Suitable even for industrial applications
600 grams of insulation material makes it suitable for the entire fall season
Available in different widths and sizes
Cons
Could use a bit more insulation
Starts to show signs of wear after 6 months
The Kenetrek Men's Hunting Boot is a heavy-duty pair of footwear made of leather for strength with a rubber sole for flexibility and stiff nylon midsoles for high traction. This pair features good breathability and is also waterproof. It is non-insulated, making it suitable for warm weather conditions. It is also lightweight at only 3.9 pounds, which makes it comfortable to wear even with hours of hunting.
The sturdiness of these boostare delivered by its leather material, which makes it suitable for rocky terrains and harsh locations. Its reinforced toe guard provides added protection for your outdoor activities.
Pros
Snug support
Really suitable for outdoor use
Delivers high comfort level
Solid sole
Lightweight
Great traction on rocks
True to size
Durable and re-buildable
Waterproof
Keeps the feet dry
Made of high quality leather
Outstanding fit and finish
Cons
Arch seems a bit too high
Expensive
Can lead to blistering
Lacks shock absorption for the prevention of feet soreness
The Rocky Men's Hunting Bootis designed to be durable, long lasting, comfortable, solid, and waterproof. These camo boots are constructed from high quality full grain leather, with which you can expect on durability. Its construction is designed to retain its shape even after extended hours of wearing. Another admirable feature of this pair of boots is its breathable membrane that keeps your feet dry while blocking out moisture from the outside.
It has an insulation of 200 grams, providing the warmth you need on cold days. The adjustability of this boot allows you to modify it according to the fit that you need. This allows you to walk with utmost comfort and stability. It also provides good traction to any terrain you will walk on because of its multi-directional and self-cleaning lug design.
​
Pros
Keeps the feet warm and dry even after hours of use
Provides good traction when walking on rocks and slippery conditions
Soles last long
Does not leak even when used in the rain
Very tough; can be used for any terrain and exposed to harsh elements without its quality and functionality being affected
Comfortable to wear with its soft leather material
Sufficient boot height
Quick and smug lacing
No need to break in with these boots
Cons
No sizes for women
Could use a bit more insulation
Could use a bit more stiffness
TheIrish Setter Men's Upland Hunting Boot is made from leather, which translates to durability and ruggedness. It features a rubber sole that provides flexibility in moving on the ground. It also features a nylon lining to provide breathability. Thus, you can wear this boot for many hours without worrying about warm air not being able to escape from your boots. This helps keep your feet warm and dry.
It has a waterproof layer that blocks out moisture from entering the insides of your boot when you walk on wet grass or if you submerge your boots in a few inches of water. It also comes with a padded collar to deliver added comfort. For a longer boot life, this pair of boots can be re-soled.
Pros
Insole is thick enough to provide protection
Provides good level of comfort
Keeps feet dry
Stylish and robust
Can be used for several highly physical activities such as climbing rocks and fording creeks
Great ankle support
Good fit
Repels water
Tread design prevents too much mud from adhering to the boots
Design makes it suitable for casual wear
A go-to boot for most of the seasons
High quality leather used
Lightweight
Resoleable
Cons
Could use some arch support, or removable inserts
Rounded soles could be a little awkward to feel when walking
A bit too snug for its size; inconsistent sizing
The MuckBoots Hunting Boot is a waterproof pair that provides good support and comfort. It is designed to hold up against any weather condition and keep you protected as you climb and walk on different areas. Its waterproof feature keeps moisture out of the boots' inside while wicks off moisture from the inside in order to keep your feet cool and dry even in warm weathers.
One of its admirable features is its anti-friction lining to keep it comfortable on the feet. This pair also has camo coverage to help you blend in your surroundings so that your prey would not easily detect your presences.
Pros
Cool to the feet
Waterproof
Comfortable to wear
Good ankle support
Lightweight
Cons
A bit warmer than expected
Plastic material on the sole is not as durable as other parts of the boot
Conclusion
The ultimate goal in purchasing the best hunting boots is to find a pair that is the right fit and size, durable, waterproof, breathable, and appropriate for its use.
With all the hunting boots in this roundup, the Rocky Men's Hunting Boot stood out because it has all the right features one should be looking for in hunting boots. It is comfortable, breathable, durable, and waterproof. To top it all, it has a camo design that makes it easier to remain undetected by the prey. Moreover, this boot has just enough insulation to provide warmth on early seasons. It can also be used for colder weathers by using insulated socks.
​Other Buying Guide: Best paintball pants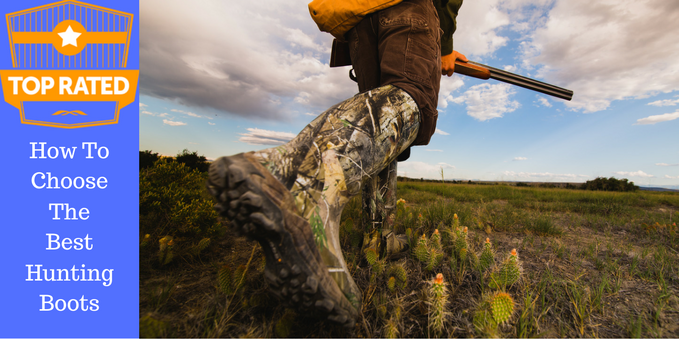 Incoming Terms
Hunting Boots
Best Hunting Boots
Best Hunting Boot
Hunting Boots Review