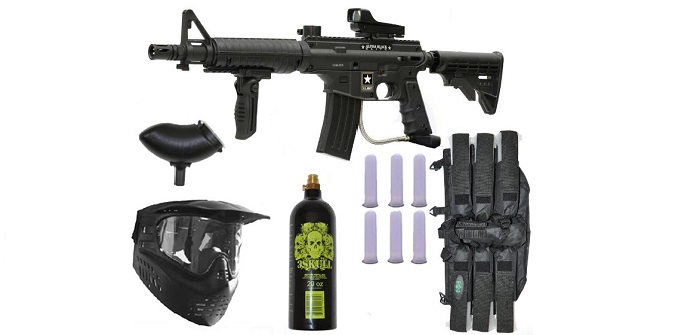 Pros
The product comes in a complete package. It has a really nice firing rate, and it is a good paintball gun to use if you value accuracy.
Cons
There are almost no cons to this product, but if you must really take everything into account, a drawback is that you still need to add some accessories to it if you really want to maximize all of this gun's features.
Are you looking for a paintball marker that looks realistic?
We understand that most players prioritize the look of the paintball gun that they own, and that's okay because let's be honest, holding a realistic looking gun really adds to the thrill and the fun, right?
Read 70+ Customer Reviews
Check price at Amazon.com
This is also probably why the
Tippmann US Army Alpha Black Elite Paintball Marker Gun
is so in demand. We are going to get into the specifics a little more later on, but just to give you a brief overview right now, this gun is rated as one of the most realistically looking paintball guns around.
Moving on to the performance, this paintball marker gun has received its own share of positive reviews as well on that area. So, what are we waiting for? Let's talk about it a little bit more.
The Tippmann Experience
First, allow us to provide you some details of what is included in the package, as you will be able to see on Amazon. Aside from the paintball marker gun, you'll also get a CO2 tank that will be shipped empty, a folding foregrip, clear pods, the famous red dot sight, and finally a mask with an anti-fog lens.
To take a closer look into the product, you may watch this unboxing video on Youtube:
Read 70+ Customer Reviews
Check price at Amazon.com
The Different Advantages of This Product
1. It is affordable.
There are numerous advantages in buying this product. Compared to the price of other paintball marker guns that you are going to see in the market, the Tippmann US Army Alpha Black Elite really gives a lot of value for money.
2. It is reliable.
It is also known for its reliability and durability. Being all-aluminum, this paintball marker gun can really endure some decent beating and it will last you hundreds of games before it shows signs of wearing down.
It also has an M16 carrying handle that will allow you to carry around your gun easily.
3. It is appealing.
This paintball marker gun is obviously patterned after an M16 assault rifle. It has all the features and fixings of its real M16 counterpart which includes the gun's front sights, barrel distinguished by its lower rails, and a removable magazine.
Even the feel is similar. With its all aluminum body, the weight of the Tippmann US Army Alpha Black Elite is really close to the heavy weight of the actual gun.
4. It is customizable.
The stock is also adjustable, so you can modify this gun as well to suit your liking. In fact, it is known to be very customizable with a lot of upgrade options. One of our suggestions would be to remove the plug that is next to the trigger frame, and install a special feed system.
Features Of The Product
The Entire Package
One of the things that we appreciate the most in purchasing the Tippmann US Army Alpha Black Elite is that it comes in a complete package. Sure, you can purchase a lot of add-ons to complement and add to its look but you can already play and go with the package that it comes with.
The Reliable Performance
The Tippmann US Army Alpha Black Elite really packs in a high firing rate. You can also fire a lot with this baby at more than a thousand shots before it runs out, with using just a standard tank. But of course, as we have mentioned above, installing a new feed system like the Tippmann Cyclone Feed System, will definitely improve its performance even more.
What Type Of Player Should Use This Paintball Marker Gun?
The Beginner
A beginner would enjoy owning a gun like this. Though it can be heavier compared to other guns, it can improve a player's accuracy, it's durable, and the newbie player would really enjoy customizing this baby as he or she improves later on.
The Sniper
With the Red Dot Sight, the sniper would really enjoy firing his head shots with this – even with extended distances.

Read 70+ Customer Reviews
Check price at Amazon.com
Customer Reviews
A lot of the players have purchased this gun primarily because of its looks. Well, this paintball marker is really appealing. However, after opening the package, assembling it, and taking it out for a test game, the users will soon discover its other nice features.
We are seeing a lot of love and hate with the red dot sight though. There are a lot of players swearing that the red dot sight is accurate especially within the first eighty yards. Some players though would say the exact opposite: that the sight is really not working for them.
We are not seeing any negative reviews about the durability of this product though, which says a lot about the product quality. Well, what do you expect with a paintball marker coming from a reliable brand such as Tippmann?
Tippmann has already established itself as a reputable manufacturer, and you are probably familiar with the brand already because of their popular Tippmann 98.
When it comes to gameplay, it is highly recommended by veteran players to beginners because of the well-balanced marker. It's not too lightweight, nor too heavy. The weight is well balanced for those who just want to snipe down people, and also for those who enjoy active play Rambo-style.
Conclusion
Overall, the Tippmann US Army Alpha Black Elite is really a good gun for everyone, both for the hardcore players and beginners alike. It's a good starter gun that works amazingly well on its own. And it's also for those veterans who are looking for an affordable foundation to build on and customize to their own needs.

Top 10 Paintball Guns
Check price at Amazon.com
Incoming Terms
Tippmann Alpha Black Elite Review
Tippman Alpha Elite Review
Tippmann Alpha Black Élite
Tippmann Us Army
Alpha Black Elite Paintball Gun Review
Us Army M16 Paintball Gun
Us Army Elite Black Tippmann
Tippmann Us Army Alpha Black Elite Review
Alpha Black Paint Ball Gun Reviews
Reviews On Tippman Us Army Alpha Black Paintball Rifle