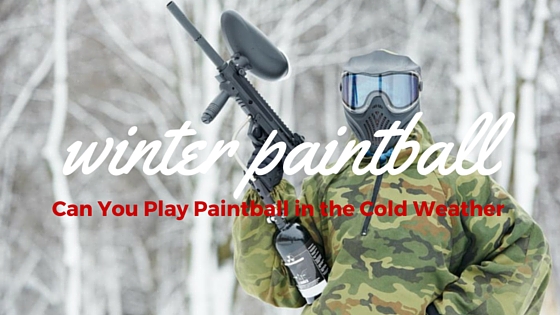 Playing paintball will not stop even there the weather condition drop down and there is enough snow on the ground that start sticking if you have already done preparation. Paintballs equipment & markers all respond in different ways than when you performed through the summer months, though. Unless you change your equipment, clothing and performing style to cope with the elements then you're set for bad day! Below are a few helpful tips and tricks for participating in paintball game for winter season.

Winter Will Surly Had Bad Influence on Paintballs
Paintball shell is generally made up of veggie starch as well as gelatin materials The shell becomes brittle when the temperature going towards negative side and most of these brittle shell break before you fire or holding them in hand. The main factor to stopping this is to keep these balls insulated for as much as possible from the weather.
Don't try to carrying out a number of pod packs as well as pods because there is danger of breakdown of the paintball. Try to bring a few of pods that you can easily carry as well as easy to hide inside the clothes. Try to load the balls in the hopper at the last minute because when you load them they are going too chilled inside the hopper.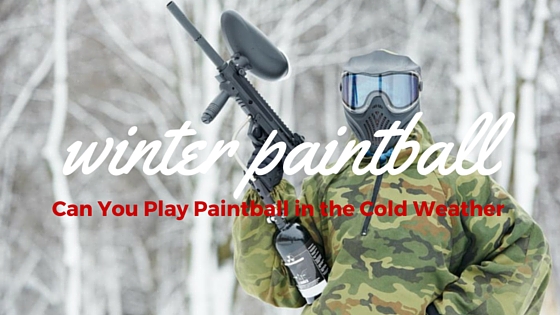 As you play in the summer please do not try to jostle as well as rattle of the paintball in the hopper. When carrying out the paintball in the car use heat packs or any cooler which maintain the temperature of the balls.
CO2 Is Not A Cold Weather Friendly Gas
CO2 tanks will be considered as a great option for using in the summer paintball games but it is not a favorable element in winter. Due to freezing of CO2 the expansion pressure will gradually drop, which also drop your velocity and blowback markers will not work properly with a shuttering sound in your paintball gun. And the liquid come out of the paintball gun barrels which splash on your body as well as the gun. Its sounds not a good idea for playing.
In this situation the best alternate for CO2 is HPA which is a compressed air solution. And considered as the best options when use with the compressed CO2 because it will overcome on all and reduce the effect of weather on the CO2 tank. The compressed air will help the CO2 to expand slowly which will help you to generate more pressure and you get a best shoot to target when you got the full pressure in the CO2 tank.
But remember when you are not using the gun for shooting try to lift up the barrel tips which will help you to avoid any material leakage from gun barrel. And try not to use the heat packet in this setting because maybe it cause some splashing out of material.
Use Goggle Mask with Thermal Lens
You can use some anti-fog lens or simply use the single lens during the summer season in the paintball game. But the same will not be help you in the winter season. As most of the single lens have fog inside the mask when you take it in the cold weather and freeze on your mask when the temperature drop down. So preventing all these fog things the thermal lens is the best option to choose.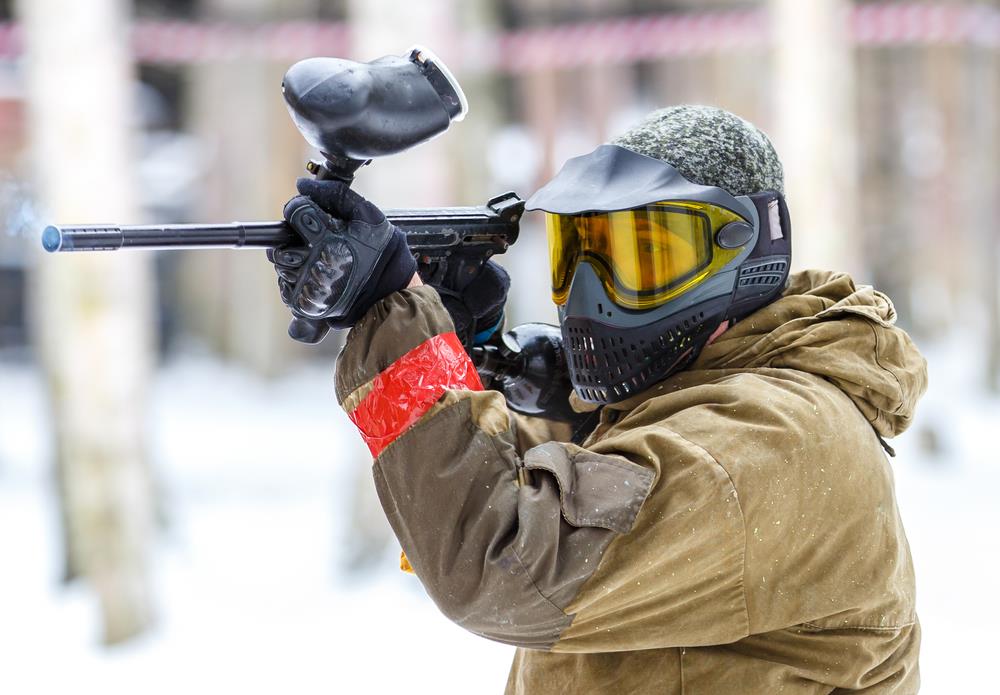 Use of Thermal Gear
This is a common things that will be found in most outdoor games is when you move or working you are going to warm up as well as perspire. Your bone will be chilled up when you stop moving or working. You must have a gear that help you to get the air circulation in your gear when you are actively playing and close everything up to warmth level when inactive.
For this purpose you can use thermal gear including the thermal underwear foundation part, a shirt or sweater with a zipper that enables you to warm-up or cool off in the mid of the game. But using a gear that don't observe the sweat will not comfortable for you and considered as a bad idea of choosing gear.
For comfort and safety you need a sweat proof pair of boots as well as socks. Don't try to wear more than one socks pair as it will stop the blood circulations in your legs .Use a pair of gloves and a warm cap that will cover your ears is necessary gears that you need in the paintball game.
Take Your Squeegee for Fog and Paint
Marker of your paintball may not break the paintball in the summer but in winter the situation is totally opposite. You can't analyze the brittleness of the shell in the mid of game as well as you can't analyze other factors that cause breakage of the Paintball during game including the ultra-low pressure, delicate nosed bolt and many others. So try to carry at least one squeegee which help you to avoid all these issues that can cause the breakage of ball in the gun as well as after firing on your competitor.
Control on Hydration
Even it's not a summer season where there is a need of water to stay hydrated. But you can't place out your water bottle outside when you are going for a paintball game. You can easily be a victim of dehydration die to chilly weather if you don't use a proper amount of water. So use water or any other drinks in bulk quantity to avoid further dehydration.
Conclusion
At end I just want to say that the paintball is not a game of summer you can play it in winter if you have follow proper rules and regulations that mentioned in paintball waiver. You can use the above mentioned techniques and tips to avoid any damage to you and other player playing in the paintball field. So prepare according to above guideline and let start playing paintball.
Incoming Terms
Best Paintball Gun For Cold Weather
Paintball Freezing
Is There Paintball In Winter
Paintball Cold Weather Tips
Freeze Paintballs Before Playing
Paintball During Winter
What Is The Best Outside Temperature Play Paintball
Is It Possible To Freeze Paintball
Playing Paintball In The Cold
Can You Play Paintball In Cold Weather